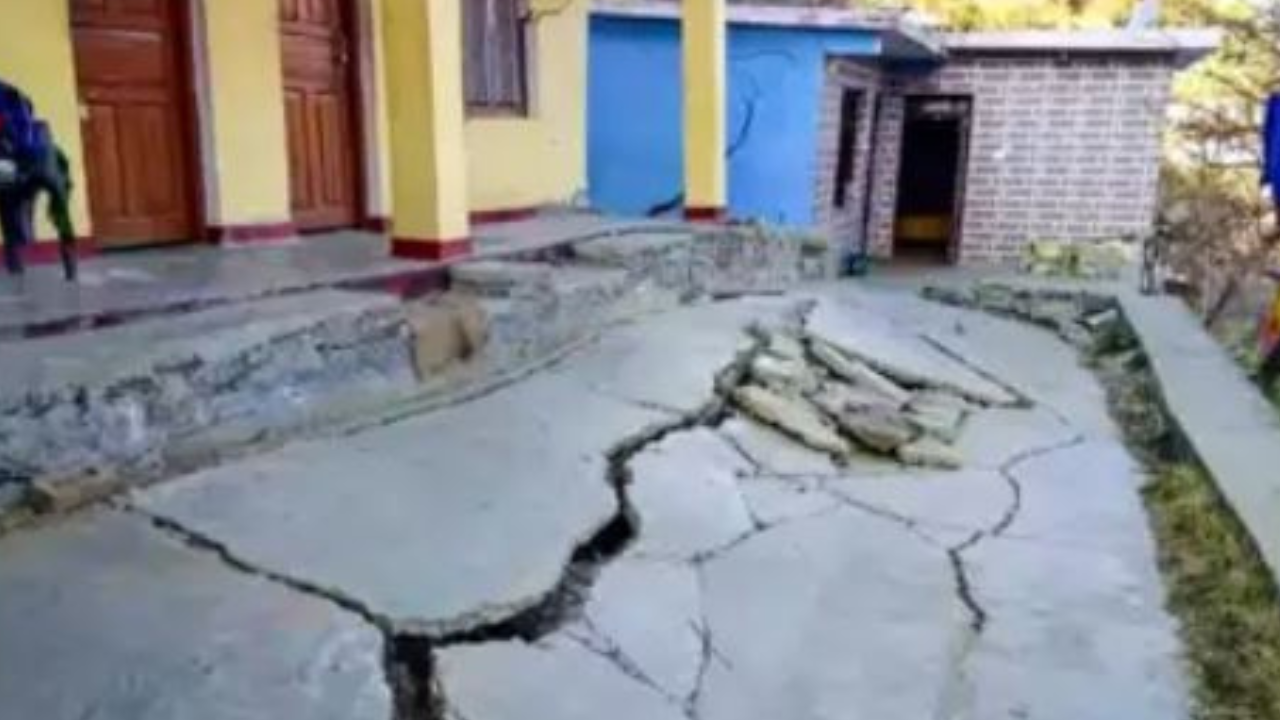 DEHRADUN/ JOSHIMATH: From Rs 5,000 per family initially offered as help, the
Uttarakhand
The government on Wednesday announced Rs 45 crore for the 3,000 households — or Rs 1.5 lakh per family — affected by ground subsidence in Joshimath as "interim assistance", after a round of talks between residents and the district administration.
The Uttarakhand State Disaster Management Authority (USDMA) released the amount for the people, many of whom are already living in shelters and are calling themselves "displaced". However, the organization leading the protests said it had not accepted any government proposal yet.
Chief minister Pushkar Singh Dhami, who reached Joshimath on Wednesday, his second visit this week, said regarding compensation for the damaged structures, some of which will have to be demolished, the "market rate will be taken into consideration". He added: "We will come to a figure after taking the suggestions of all stakeholders."
Joshimath residents — large groups out in the cold protesting their "forced rehabilitation" — have, however, demanded compensation on the lines of the Badrinath Redevelopment Plan, which was higher at about six times the circle rate. They have refused to allow demolition of their hotels and houses unless the government gives them the "Badrinath masterplan compensation".
The state government had acquired land in Badrinath for a slew of ambitious central and state projects by offering residents "six times the market price" of their houses and land. However, in case of Joshimath, the government has, as of now, agreed to give compensation in accordance with the 2003 Varunavrat landslide incident in Uttarkashi, The massive landslide had damaged around 100 buildings in the area, leading to the evacuation of roughly 3,000 people.
Speaking about their disagreement over relief, convener of Joshimath Bachao Sangharsh Samiti (JBSS) Atul Sati said, "We have not agreed to any of the announcements made by the state government today (Wednesday). We are thinking of permanently closing the NTPC office if our demands are not met. In any case, it is time that the government scrapped all NTPC and BRO work, which are ongoing in Chamoli despite this disaster."
In a related development, the plan to demolish two prominent hotels of Joshimath, Mount View and Malari Inn, which have been posing a danger to residents nearby and which was stopped on Tuesday after protests, will be completed within a week under the supervision of Central Building Research Institute (CBRI), according to R Meenakshi Sundaram, secretary to chief minister Dhami. He has been camping in Joshimath to oversee the process.
According to the district administration, 723 structures have reported cracks and 86 have been declared unsafe in nine municipal wards of the town facing severe land-subsidence problems. Disaster management department secretary Ranjit Sinha said four companies of State Disaster Response Force (SDRF) have been deployed in Joshimath.
watch
Joshimath land subsidence: CM Dhami consoles affected families

#Uttarakhand #increases #Joshimath #aid #30x #1.5L #family #India #News