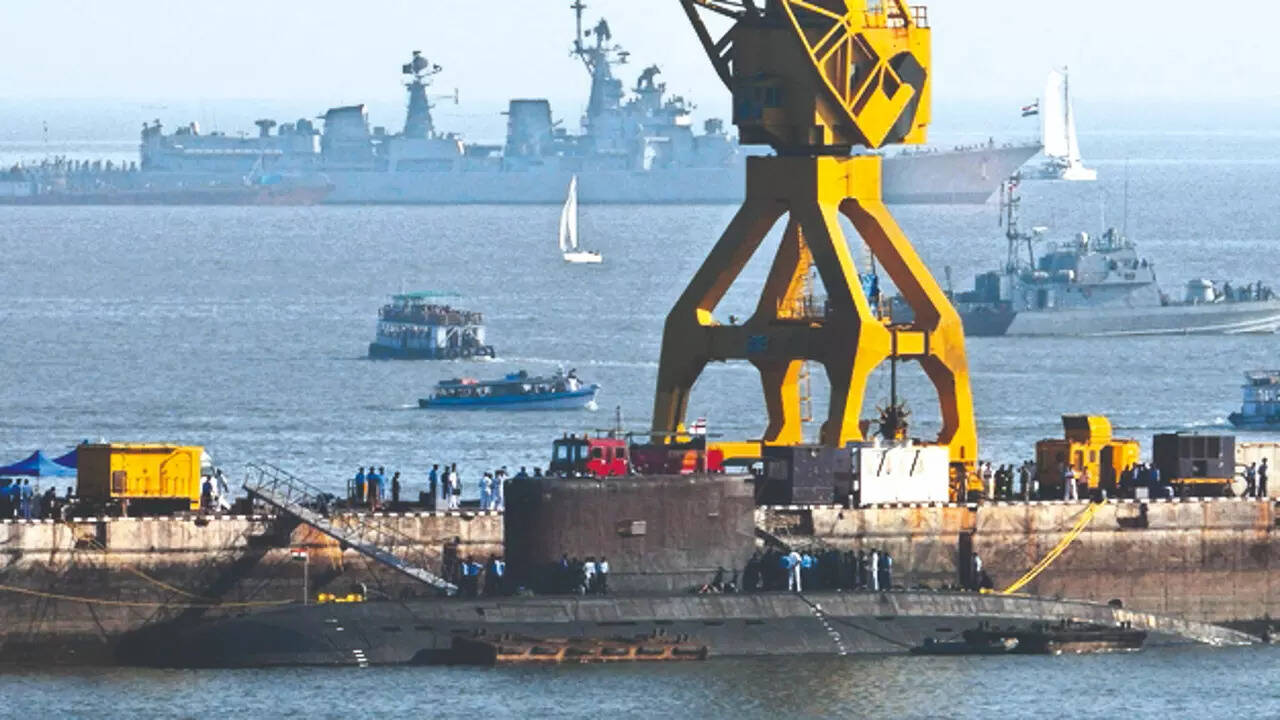 NEW DELHI: India is facing "some problems" in transporting back one of its diesel-electric submarines after a protracted major refit in
Russia
which has been slapped with major sanctions and embargoes by US-led western countries since it invaded Ukraine in February last year.
Initial deliveries of the third operational squadron of the S-400 Triumf surface-to-air missile systems from Russia, however, have now begun after some delay under the $5.43 billion (Rs 40,000 crore) contract inked in 2018.
With well over 60% of its military hardware being of Soviet or Russian origin, India continues to grapple with alternate payment mechanisms for new inductions and maintenance of existing inventory in the wake of western sanctions on Moscow. "But it's being managed," a source told
TOI
,
The Navy in October last year had wanted to arrange the "sea-lift" of its Russian-origin INS Sindhuratna on a commercial transport dock ship from the Severodvinsk shipyard in Russia to Mumbai. But the force has now changed the tender or RFP (request for proposal) for transportation of the Kilo-class submarine, with a displacement of 2,441-tonne, from Tromso or any other port in Norway.
"The submarine should ideally have come directly back from Russia. But because of the ongoing Russia-Ukraine war, there are some transportation and other problems. So, the plan now is to sail it to a Norwegian port and then carry it on a sea-lift vessel to Mumbai," another source said.
The Navy wants INS Sindhuratna to be loaded onto a transport ship next month, with the subsequent 35-day transit to Mumbai planned via the Cape of Good Hope.
INS Sindhuratna, which had a major accident in 2014 that killed two officers, had gone for the "medium refit-cum-life extension" upgrade at Severodvinsk much before the Russia-Ukraine war erupted almost a year ago.
INS Sindhuratna is the second of four old Kilo-class submarines earmarked to undergo the modernization upgrade, each costing around Rs 1,400 crore, to stem the major depletion in India's conventional underwater combat fleet.
Apart from the five new French-origin Scorpene or Kalvari-class submarines, with the last getting set for delivery by Mazagon Docks This year under the Rs 23,000 crore deal, the Navy is left with just six old Russian and four German HDW submarines.
On the S-400 front, India has till now managed to stave off sanctions under the US law CAATSA (Countering America's Adversaries through Sanctions Act), which seeks to prevent countries from buying Russian weapons. IAF is slated to get five S-400 squadrons by end-2023.

#Indian #submarine #major #refit #stuck #sanctionshit #Russia #India #News