NEW DELHI: The CBI have filed an F.I.R. against Anil Sharma, the managing director of the Amrapali Group, and six others on charges of murder and criminal conspiracy in connection with the killing of a former secretary of a reputed school in Bihar over eight years ago. The agency has also named a physician, Dr Praveen Sinha, businessman Rajendra Singhania, advocate Shambhu sharan singh and a few others as accused in the FIR.
The CBI took over the investigation on the Patna High Court's order. As per the CBI's FIR, the murder was committed by the named accused to take over the land and assets belonging to the educational institution, Girls Vidyapeeth,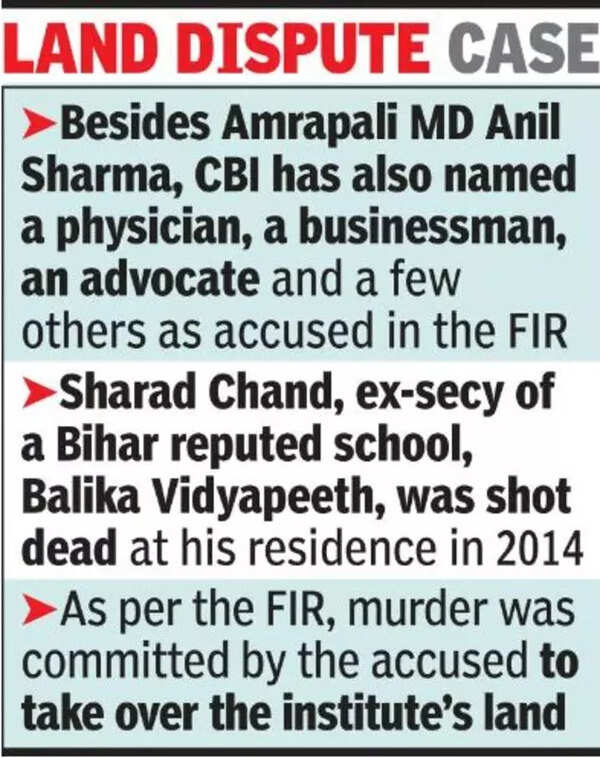 "It has been alleged that in August 2009, Anil Sharma, MD of Amrapali Group, had usurped the trust of Balika Vidyapeeth with the help of Rajendra Prasad Singhania, Dr Praveen Kumar Sinha, Shyam Sunder Prasad and Shambhu Sharan Singh and the deceased secretary was forcibly removed," the FIR says.
"Since then, a dispute was going on between both the parties. It is also alleged that income of Balika Vidyapeeth was being usurped by opening a personal account operated by Dr Praveen Kumar Sinha and Dr Shyam Sundr Singh and therefore, the deceased Dr Sharad Chand was making complaints regarding the unlawful manner in which the Balika Vidyapeeth was being run," the FIR further reads. The deceased, the complaint adds, was also regularly threatened and attacked, his house was damaged and firings were done in the past.
Dr Chandra, the former secretary of Balika Vidyapeeth, an institution for girl education, in Lakhisarai, was shot dead at his residence on the campus on August 2, 2014. He was having tea and reading a newspaper on his varandah when two men arrived at the gate on a bike. One of them entered the campus and shot him from point-blank range. Chandra's wife, Usha Devi, and the cook ran to his rescue but chandra had died on the spot.

#CBI #books #Amrapali #murder #charge #India #News